Brookmeade's Sod Products
Located in Central Virginia, Brookmeade grows Turf Type Tall Fescue with its own South Anna seed blend, as well as two varieties of Zoysia grass. Fescue is what most people think of when they think of grass. Zoysia is a summer grass that does very well in yards with full sun.
Brookmeade sells Oregon Certified Sod Quality Seed. It is the same seed we use to grow our Fescue fields.
Helpful Brochures:
Turf Type Tall Fescue
is a cool-season grass
Available all year, ideally the best time to install Fescue is in September. However, it is perfectly acceptable to install most of the year with the exception of July and August. Fescue stresses in the hot summer months of the Richmond area. Fescue grows best in the Fall and Spring. Fescue will root when temperatures are above 32°. Tall Fescue is a broader-blade grass and slightly coarser texture than Kentucky bluegrass sod. Tall Fescue sod is moderately drought and shade tolerant and performs well throughout Virginia. It is perfectly ok to install Fescue on ground that is frozen. Once it thaws it is more moisture for the grass. Fescue is adapted to a wide range of soil conditions and management programs. All grasses newly installed or established need Sun, Water, and Nutrients to thrive. See Sod Tips watering guidelines for the first 2 weeks. Once rooted, Fescue needs 1.5 inches of water a week.
Turf Type Tall Fescue
Sold by the square yard
Harvested Year-Round – Weather Permitting – Best in Cooler Months
$8.00 a square yard measures 16″ wide x 81″ long.
It is 1 square yard or 9 square feet.
Rolls up to the size of a large cinder block weighing 40 lbs. ±
Orders of 35 yards or more are stacked on a pallet.
There is a deposit of $25.00 per pallet, refundable with proof of purchase.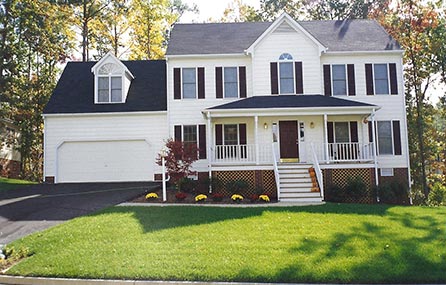 Zoysia Grass
is a warm-season grass
Available in the Spring
Availability depends on Temperatures.
Contact us at Rose@BrookmeadeSod.com to get on the notification list.
Brookmeade cultivates Meyer Z-52 and Zenith varieties of Zoysia. A great product, Zoysia is drought-tolerant, disease-resistant, and chokes out weeds. Zoysia requires little maintenance. The grass spreads by above-ground stems called stolons and underground stems called rhizomes. It is a slow spreader, easy to keep up with its growth. Brookmeade sells by the square yard or bag of plugs. The Zoysia plugs are approximately 1.5″ in diameter. Most of them are separated, although you may have to pull some apart. YOU do not have to cut them apart. The plugs are not anything like what you can get in the mail. Plugs planted 12" on center, the plugs will grow together as an established lawn in 3-4 years. Planting them closer together does not cut the time needed to get established. There are approximately 300 plugs in a bag. WE are green, we recycle our 50 lb. seed bags!
Meyer Z-52 Zoysia & Zenith Zoysia
Harvested Late Spring – Depending on Temperatures – Until October 1st
$15.00 a square yard-each weighing 45 lbs. ± measures 16″ wide x 81″ long.
It is 1 square yard or 9 square feet.
$45.00 for a bag of approx. 300 plugs that are the size of a silver dollar and separated.
$45.00 for an auger that attaches to a hand drill to aid in making the holes.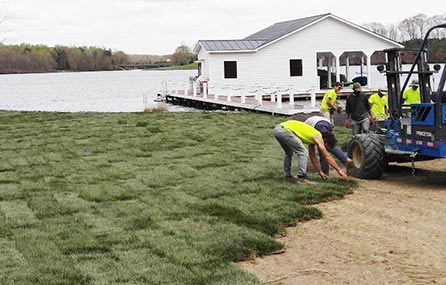 Professional Grade Fescue Seed
Our SEED! Brookmeade's own South Anna Blend Turf Type Tall Fescue
Read your seed label! The Department of Agriculture requires all seed to have a label. Brookmeade's seed has three blends of Fescue with almost 10% of Kentucky Bluegrass which is good for the roots. Our seed has NO Weed Seed and NO Other Crop Seeds. Brookmeade's seed has a 94% germination rate and is best when put down in the Fall. Planting seed in the Spring will give false hope. The seed will come up but may be too young to handle the hot summer months of July and August. Brookmeade's seed is available in 50 lb. bags or can be purchased by the pound.
$3.50 a pound
$175.00 – 50lb. bag